ELAFLEX ITALIA S.R.L. - Profile
ELAFLEX ITALIA S.R.L. is the Italian subsidiary of the Elaflex Group with headquarter in Hamburg, Germany, which is a specialist company in safe connections for the transfer of dangerous goods and sensitive fluids.
High quality and long lasting products, a widespread distribution net and a customer oriented after-sale service do well represent our company's strength.
Elaflex Italia added value is represented by the experience gained in this sector throughout the years and the continuous support of the German Headquarter which combines experience, competence, spirit of innovation and flexibility.
Elaflex Italia streamlined, solid organisation enables us to establish a dialogue with our customers and take on the role of a true partner, making our skills and knowledge available to develop together the best solution.
Elaflex Italia distributes on the market the world renown ZVA nozzles, rubber and composite hoses, fittings and rubber expansion joints for fuel, chemicals, foodstuffs and LPG industry.
Elaflex Italia is also the official distributor for Aljac aviation fuel quality control equipment and accessories and Eaton's Carter® Aviation nozzles and couplers; distributes also MannTek Couplings and a wide range of hose reels from a national partner, which completes the product range.
Thanks to our experience and the cooperation with trusted companies, we are in the position to find complementary products on the market to offer to our customers a full package.
Our commitment to keep high quality and high safety standards, as we have been doing since 1986, will be maintained also in the years to come.
ELAFLEX ITALIA S.R.L.
Via Industriale 28
25086 Rezzato (BS)
Tel.: +39.030.2496100
Fax.:+39.030.2496180
E-Mail: info@elaflex.it
ELAFLEX ITALIA S.R.L. staff is composed by 13 employees, which are distributed in Bookkeeping and Purchase Office, Sales & Export Department; Technical Department & Workshop. See Contact Page for details.
1986 - ELAFLEX ITALIA S.R.L. was founded in Rezzato (Brescia) as subsidiary of ELAFLEX HIBY GmbH & Co. KG to focus on the distribution on Italian Market of ZVA nozzles, Petrol Pump Hoses and Aviation hoses
1995 – ELAFLEX ITALIA S.R.L. has been entrusted with the market of Countries of the former Jugoslavia
1999 – ELAFLEX ITALIA S.R.L. becomes sole Eaton's Carter® distributor for the Italian Market
2004 – ELAFLEX ITALIA S.R.L. has been entrusted with the market of Malta and North African Countries
2010 – ELAFLEX ITALIA S.R.L. started cooperating with an Italian Manufacture of hose reels
2012 – ELAFLEX ITALIA S.R.L. becomes subsidiary of ELAFLEX HIBY International GmbH
2015 – ELAFLEX ITALIA S.R.L. has been entrusted with the market of North Equator African Countries
2015 – ELAFLEX ITALIA S.R.L. becomes Aljac distributor for the Italian Market
Our sales Area are:
Italy
Malta
North Equator African Countries
Former Jugoslavia Countries
Greece *partially* since some historical distributors are managed directly from our German Head Office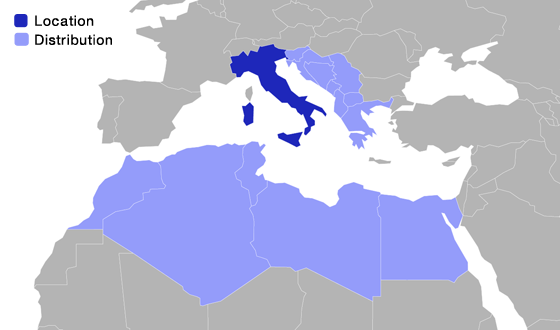 Aircraft Refuelling Hoses (YELLOW BAND... / NEON.../ COUPLINGS / OVERWING NOZZLES)

Tank Truck Hoses (YELLOW BAND HD, TW, LTW...)
Chemical Hoses (UTS / UTL, ELAFLON PLUS FEP, PTFE...)
Hose Fittings and Tank + Pipe Fittings

PAL High Quality hoses for Chemical Industry (POLYPAL CLEAN, TECNOPAL...)
Pharma Hoses(ELAPHARM...) and clean connections

Rubber Expansion Jointsfor water and waste water; Petroleum based products and LPG; Chemistry and Foodstuff (ERV-G / -R / ROTEX...)

Automatic Dispensing Nozzles (ZVA Slimline 2, ZVA Slimline 2 GR...)
Non-Automatic Dispensing Nozzles (ZV 19, ZVF 50, ZV 500...)
Safety Breaks (SSB 16, CSB 21...)
ELAFLEX ITALIA S.R.L. is the official distributor for Aljac products (aviation fuel storage, distribution and dispensing equipment, fuel quality control equipment and consumables).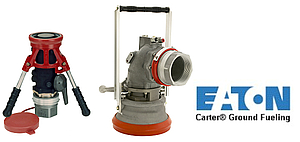 ELAFLEX ITALIA S.R.L. is sole distributor for the italian market of Eaton's Carter® products (Aviation underwing nozzles, pit couplers and hydrant pit valves).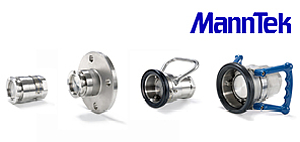 Dry Disconnect and Safety Breakaway Couplings (MannTek DDC, DGC, DAC, SBC, CBC)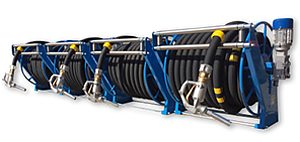 Manual, automatic, electrical and hydraulic driven hose reel.
With possibility to customize dimensions, material and painting.
ELAFLEX ITALIA S.R.L. offers the following services:
Hose assembly, Pressure testing and electrical conductivity testing acc to EN 10204-3.1 with marking of hose serial number on the safety clamps.
Assembly of ERV compensators and Pressure Testing acc. To EN 10204-3.1
Maintenance of ZVA nozzles, coaxial hoses, Eaton's Carter® couplers and MannTek couplings in our premises thanks to an always up to date trained and certified staff.
Our Head office has a quality management system ISO 9001, approval no. QS - 273 HH.