Elaflex has extended its product range to include industrial 'Hose Reels – custom-made, for terminals and road tankers, from own production'. We supply hose reels which are ideal to meet the demanding requirements of the industrial, chemical and refueling sectors.
Our hose reels are produced to the highest quality standards and in compliance with CE, European health, safety and environmental standards.
The hose reels are available with different rewind system: manual – spring – motor rewind (electric, hydraulic and pneumatic).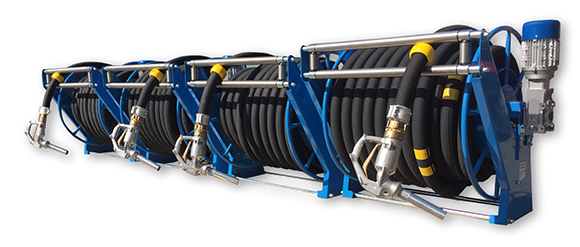 One of our strong points is that we have stock availability of standard hose reels. We can also provide hose reels fully customisable in dimensions, colours, materials and settings, in order to satisfy customer's specific request.
As a complementarity product to the ELAFLEX product range, we successfully provided installations in different fields, such as industry, refuelling, chemicals, bunkering, aviation and firefighting.
Download: Hose Reels Brochure